I realize that most posters here seem to be more focused on weaponry of the era, and given recent films and such, that's not terribly surprising. My tastes, however, tend towards more "artistic" pieces, hence the building of a barrel organ.
The piece is not yet completed, and temporarily on hold in favor of other, more profitable, endeavors. However, here are some pictures taken along the way, and I hope to return to it very soon.
A barrel organ is basically a large "organ grinder's instrument." It typically contains only one rank of pipes, often an incomplete rank, and uses a rotating barrel to store the "tunes" or notes to be played. As the barrel rotates, usually through a hand crank, individual pallets are raised to admit air to specific pipes, much the same as a music box movement functions.
Here are some views of the project thus far.
The pipes stand on a pipe chest. All of these parts are made of Timor mahogany. Inside the chest is a row of pallets that open to admit air to specific pipes. Here is the pallet board.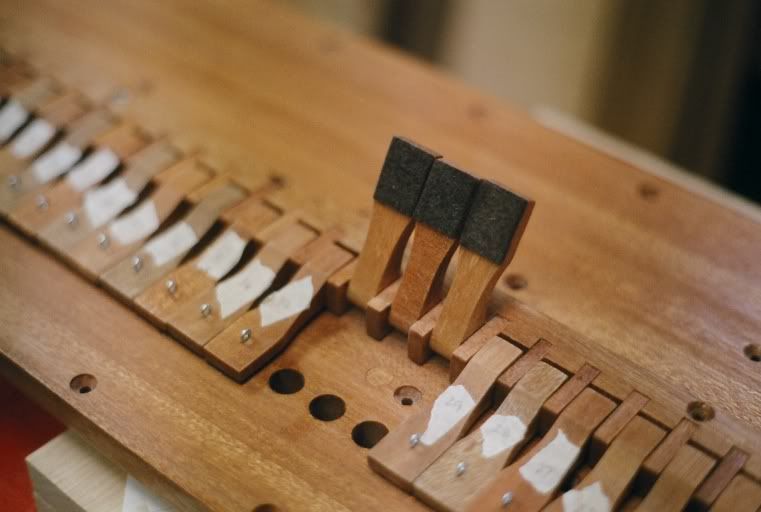 Within the chest, a set of air channels move the air to the correct pipe.
Once assembled, the pipes stand on top of the chest. In this picture, the pipes have not been "trued" do some of them lean a little. Eventually the holes in the toeboard will be felted to support them correctly. Yes, I also made all the pipes. The wood is Alaskan Yellow Cedar, with black walnut mouths and maple toes. The metal pipes are made of "pipe metal" which is a mixture of lead and tin.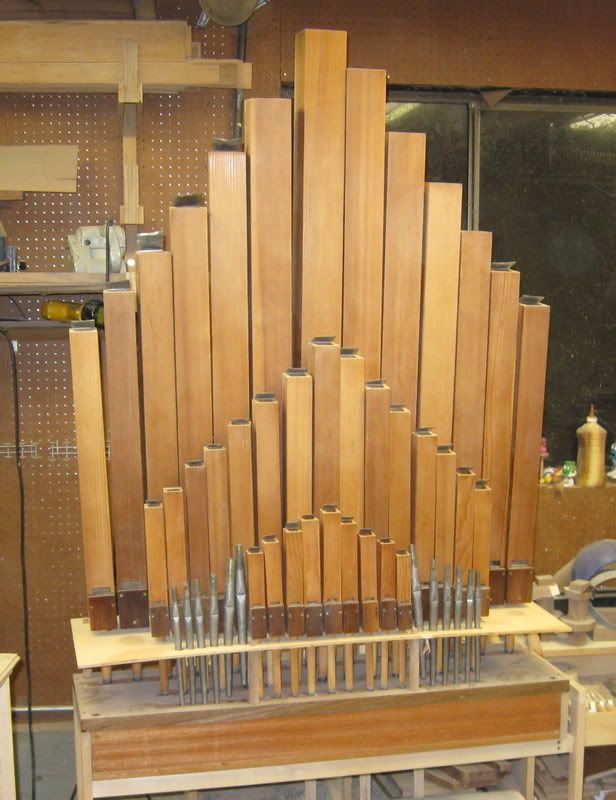 An individual pipe.
Because this is ultimately a "piece of furniture" in the home, the pipes need to be protected from little hands and accidental damage. So, the whole thing ends up within a "casework" much the same as you would see in a church of that time. While the gothic trimwork on the top is not yet completed, you can see in this picture the open grills that allow the sound to escape. The pipes will be visible through the grills. The casework is made of curly maple and black walnut.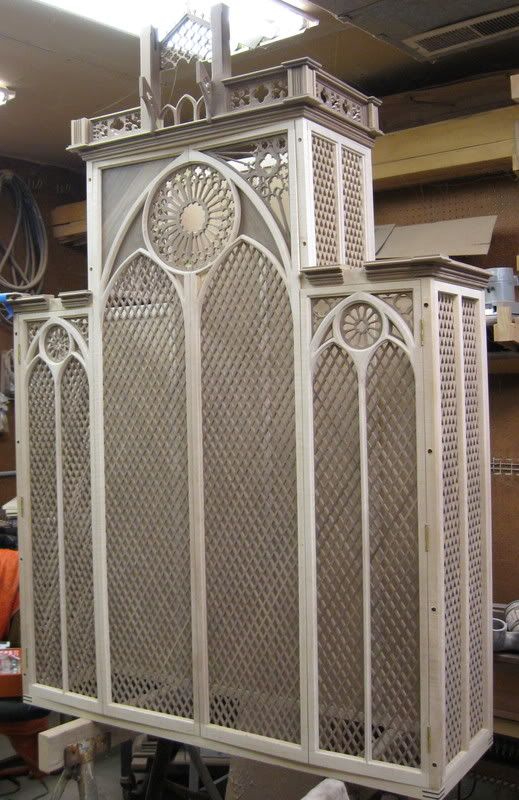 Here is a view of the entire base assembly, including the barrel, the pipe chest and the support frame. The blower and rotational mechanism is not in this picture.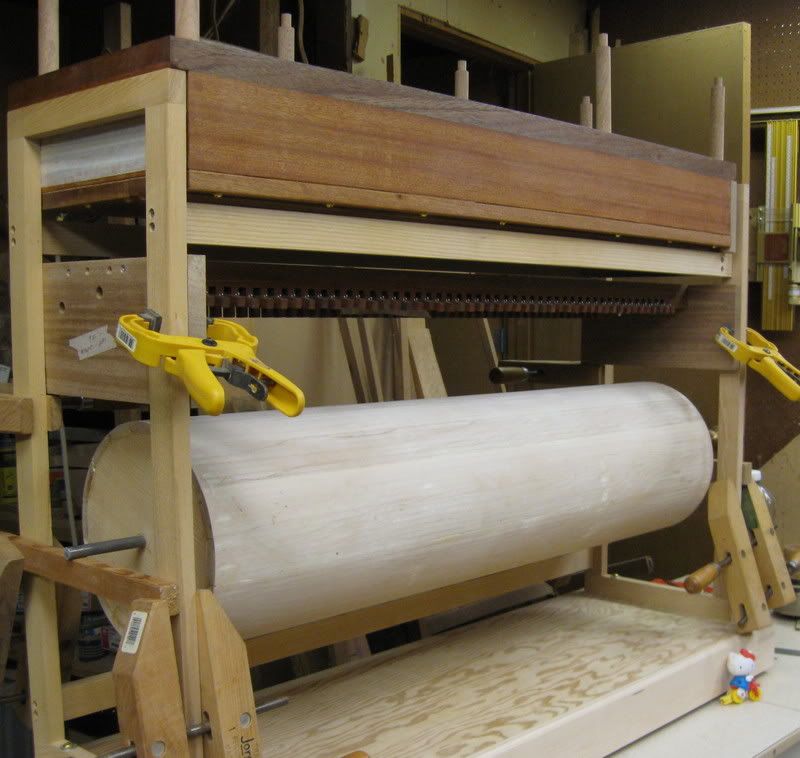 Lastly, here are a couple pictures of the gothic trim details on top of the casework. These are not yet completed.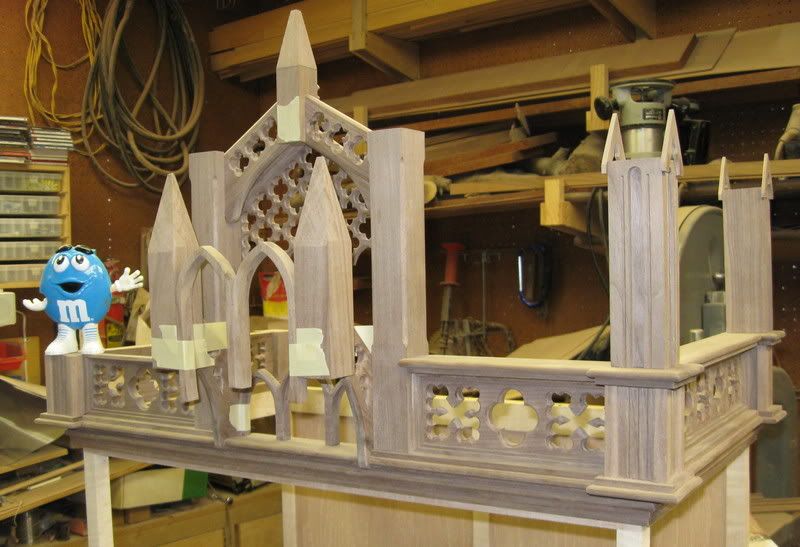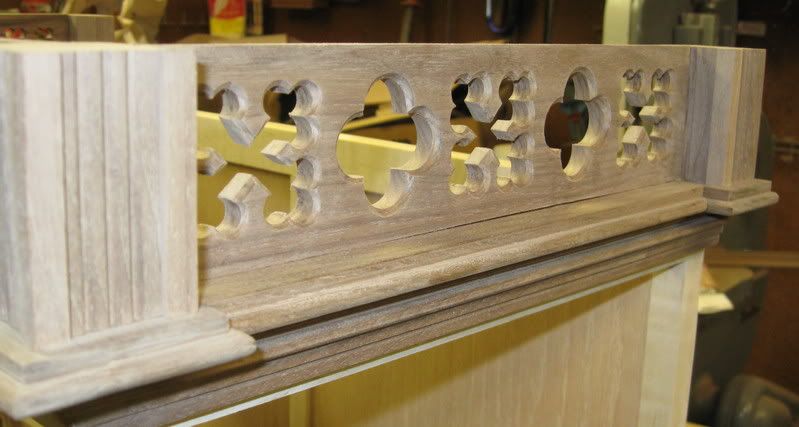 Thanks for looking.
wa
BTW, for some reason my posts here are moderated. Because of that, I can't see what this looks like in the finished form. Hopefully all the correct pictures end up in the proper place. If not, I apologize in advance.